What is Aggregate Net Metering and How Can It Benefit Commercial Business Owners?
Written by Jack Garraty | Published on July 18th, 2020
Net metering is a billing practice that credits owners of solar energy systems when photovoltaic (PV) systems generate more electricity than needed by the business. This excess energy is often stored in battery systems that can be used later. This is helpful when the sun isn't shining and also can reduce the energy bills because your business will only be billed for the energy used, not the energy stored for later use. This unique characteristic of PV systems which are outfitted with net metering provides energy independence and can even help neighboring areas. This idea of sharing excess energy produced in surrounding areas is called aggregate net metering. Below is a model concisely demonstrating how net metering is used: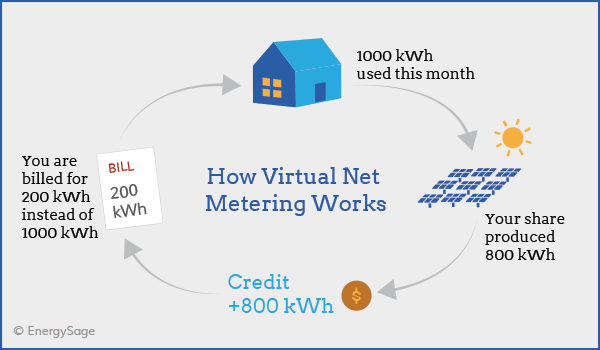 Aggregate Net Metering
Aggregate net metering is the practice of distributing excess energy among neighboring areas which will offset rising utility costs (click here to learn more about rising utility costs) and reduce energy dependency. While some states do not allow net metering, Maryland, Washington D.C., and Delaware all allow aggregate net metering. Virginia is currently legislating the Virginia Clean Economy Act (VCEA), which will establish a renewable energy market in the state and will include net metering.
In an article written by McGuireWoods LLP, "The VCEA increased the amount of permissible net metering — the concept of allowing unused electricity generated by a customer to be fed back to the electric grid and purchased by electric distribution [companies]."¹ This is very promising for Virginia energy sectors and many states are following in Virginia's footsteps. Below is a map showing the states that allow aggregate net metering: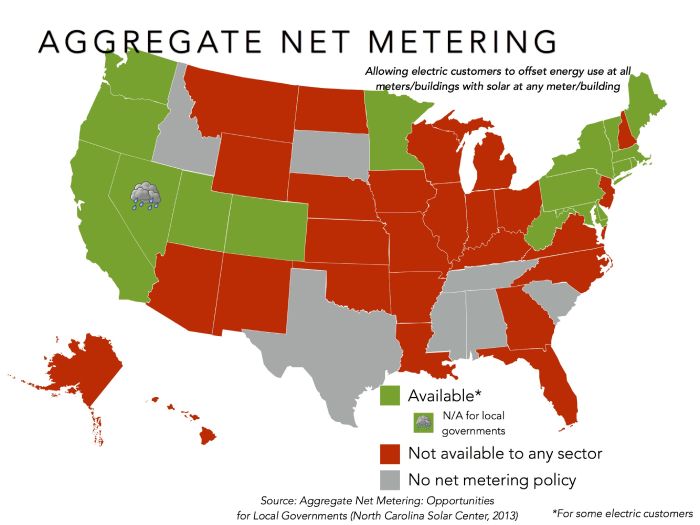 State Net Metering Policies In the D.C., Maryland, and Virginia Area
Thirty-eight states, Washington, D.C., and four territories offer net metering, and utilities in two additional states—Idaho and Texas—have voluntarily adopted net metering programs.
Maryland – Maryland's current net metering law covers commercial systems up to 2 MW.
Virginia – Virginia's current net metering law covers commercial systems up to 500 kW.
District of Columbia – Commercial systems up to 1 MW are eligible as well as community solar systems up to 5 MW.
If your business is interested in learning more about net metering and aggregate net metering, Capital Solar Group LLC and our experienced solar experts are here to help. With over 25 years of combined experience in the solar industry, our trusted financial and solar advisors will offer free onsite consultation to see if a solar PV system and net metering are right for your company or enterprise.
¹ M. (2020, July 2). Virginia Clean Economy Act Promises to Increase Development of Distributed Renewables. Retrieved July 14, 2020, from https://www.jdsupra.com/legalnews/virginia-clean-economy-act-promises-to-84347/