The Power of SRECs: How Solar Renewable Energy Certificates Can Help Your Business Thrive
Solar Renewable Energy Certificate Overview:
Solar PV system owners receive a solar renewable energy certificate for every 1000 kilowatt hours produced by their system.

SRECs are the product of government renewable portfolio standards which dictate renewable energy requirements for businesses and private residencies.

SREC prices vary from state to state – ranging from $7 to $440

Not every state has an SREC market (yet)
An SREC is a Solar Renewable Energy Certificate. Essentially, these certificates are state incentives that allow residential and commercial owners to buy and sell energy certificates. Each SREC earned by the owner of a solar system is segmented into 1000 kilowatt hours energy packages.
As a PV system produces power, that energy is recorded by a revenue meter. That data is then sent to PJM-EIS' Generation Attribute Tracking System, which validates the data and issues SRECs to system owners. From there, SREC owners can sell their certificates to utility companies as part of the state's renewable portfolio standard.
The pricing for SRECs varies depending on the specified market and state. Below is a map indicating which states contain SREC markets: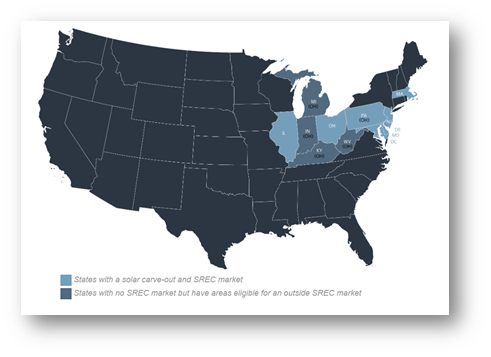 SRECs are the product of government regulations known as renewable portfolio standards or RPS. These standards are state-by-state laws that dictate specified renewable energy requirements for businesses and private residencies. Depending on the state, a percentage of electricity usage must come from renewable resources, often from photovoltaic solar systems. The market for SRECs is enormous because even businesses that do not have a source of renewable energy must still meet their state's RPS. Below is a table which shows SREC prices as of August 2022:

SRECs are traded at varying price points for a number of reasons. In states such as New Jersey and Massachusetts, the supply of renewable energy is not as prevalent in other states, therefore driving demand up and subsequently raising the price per SREC. SREC market prices can also be affected by a lack of fines for not submitting SRECs. Some states do not provide enough financial pressure on customers to adhere to RPS regulations. 
How Can SRECS Help Your Business?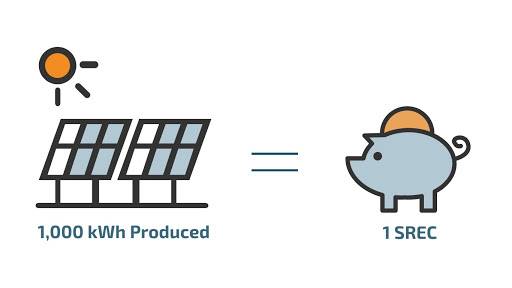 37Many customers are motivated to install solar because of the savings and return on investment it can offer, and SRECs play a crucial role. Simply put, SRECs mean money in your pocket and a quicker return on investment. Depending on the state, SRECs can generate significant income for the system owner.
Assume your business owns a 100 kW system with a performance ratio of 1,250kWh/kWp. Over the span of a year, your solar electric system would generate 125 MWh which equals 125 SRECs. 
In Maryland, this would provide a revenue of $7000 a year (5.9 cents per kilowatt-hour).

In Washington, D.C., this would provide a revenue of $37,500 a year (30 cents per kilowatt-hour).

In Virginia, this would provide a revenue of $5000 a year (4 cents per kilowatt-hour).
The amount of SRECs created is dependent on system generation, which can be affected by a number of factors: system size, site quality (irradiance, shading, reflection), component specification, etc.